NOTE: All of Naked To The World's music is available for download at: https://nakedtotheworld.bandcamp.com/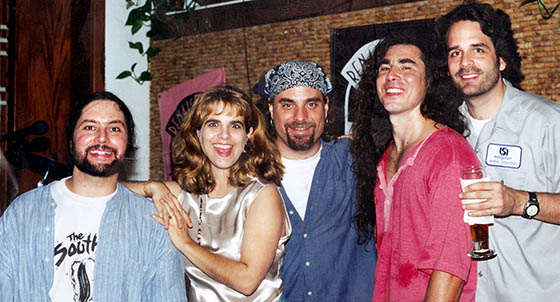 Naked to the World recorded five CDs, was awarded Acoustic Band of the Year by the National Academy of Songwriters, and even got a little national airplay. In the 1990s, they toured extensively in a van that broke down all the time, which was documented in the song "Nowhere Else But Here".


Naked to the World is primarily a vehicle for singer-songwriter Kevin Fisher's literate and melodic folk songs. A former rock & roll junkie with a degree in English literature who converted to folk music because he thought it would be a more sensitive medium for his poetic lyrics, Fisher started his career as a solo performer and a staff songwriter for a Nashville publishing company. It was not until 1993, when Fisher was approached by Daryl S., a violinist with training in classical, jazz, and folk music and connections to the Turtle Island String Quartet, that Naked to the World was born. The band's self-titled debut focused on the collaboration between the two artists.




By the time Pilgrim's Kiss was released in 1996, the duo had expanded into a six-piece ensemble with David James on guitar, mandolin, mandola, violin, viola, and baritone ukelele, Darby Orr on bass, David Casanova on drums, and Jeff Gross on percussion.


---
Kevin Fisher is a multi-platinum selling songwriter who has written over a thousand songs, performed all over the world, and has had a couple of his songs hit the country charts. He has two gold records (Rascal Flatts, Sara Evans), a platinum record (Rascal Flatts) and a tepid cup of coffee on his desk (Starbucks). As and artist himself and a writer for others, his songs are being played all over the world. His music has been featured on TV (True Blood, Pretty Little Liars, America's Funniest Home Videos), in movies theaters, (Angriest Man In Brooklyn, Dear Dumb Diary, Frozen Ground) and on stage (Unbeatable: A Musical Journey, Empowerpack). He also hosts a successful Songwriting Workshop at schools, music stores, and private homes. He lives in Los Angeles with his wife and two children.


Ms. Daryl Silberman is an orchestra director at Waubonsie Valley High School in Aurora, is the violinist with the Krizalido Piano Trio and the baroque duo DuettoDS2. She studied viola at the University of Colorado at Boulder, San Francisco Conservatory of Music, and University of Southern California. She has been a private studio teacher, high school orchestra director, and freelance violist and violinist in Salem, Oregon, Los Angeles, the San Francisco Bay Area, and Chicago-land performing with regional orchestras, rock bands, movie studio orchestras, chamber groups, and baroque ensembles. Kevin Fisher, David James and she founded NTTW in the early 90's. In her freetime, she is an avid yogi (200hr YTT), wine lover and a busy mom of 2 young adults.


Guitarist / mandolinist / violinist / violist David James has spent time in pop/rock bands, symphony orchestras, western swing bands, string quartets, as a sideman to many L.A. area singer/songwriters, and in folk groups accompanying English morris dance, English country dance, Victorian/Regency dance, Civil War era dance, and New England contradance. Currently in the second 'day gig' of his career (after a dozen years as an electrical engineer working in aerospace), he has spent the last 20+ years as an elementary school music teacher, turning young minds on to the joy of music.


Darby Orr is a producer/composer living in Los Angeles. Originally from Texas, he made the cross-country trek when signed as a staff songwriter for Sony Music Publishing. As a keyboardist and bassist he spends his days and nights contentedly writing music for TV and Film in his synth-filled home studio. His clients include Buena Vista Pictures, Universal Studios, Ford, Mercedes, Coors Light, and numerous video games. Darby is also an E-RYT500 certified Yoga/Meditation instructor and co-leads Yoga and Creativity retreats several times a year.


Drummer David Casanova met Kevin Fisher in 1986. With bass player Jeff Allen, they put together a band called Remarks. The trio was a crossbreed between the Beatles, CSN, and Bryan Adams. They played together for 7 years coming very close, but to no avail. David played in a cover band called Dakota for about 10 years, touring all over the Pacific Northwest... with even a stint in Finland sponsored by Budweiser. Between gigs with Naked to the World, David also played for a number of yeras in the band ChillinSun with the late great Kenny Kanowski.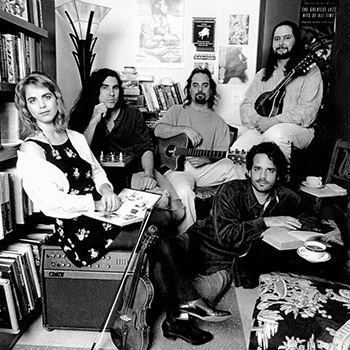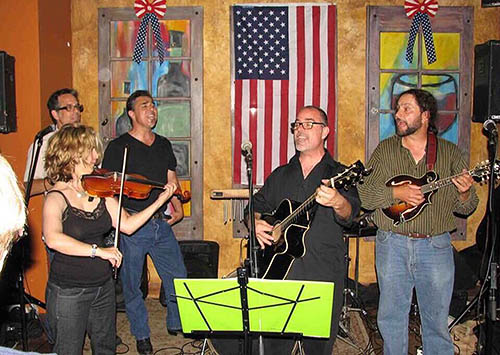 Naked To The World
(Jan 1993)

1. When The Walls Came Down (4:33)
2. As When We Dream (4:40)
3. I Always Will (3:53)
4. Easy For You (2:30)
5. Beatnik Rodeo (4:10)
6. Tenderly (2:29)
7. Going Down In Flames (3:44)
8. Slip Away (3:01)
9. Love Is Everywhere (3:22)
10. Goodnight (4:39)



Pilgrim's Kiss
(Jan 1996)

1. Intro 00:26)
2. Pilgrim's Kiss (3:17)
3. My Father And Me (4:27)
4. Jackie (4:50)
5. Weep LIke A Willow (4:31)
6. Blame It All On You (4:24)
7. Stronger Than The Tide (2:34)
8. Garden Of Rodin (5:23)
9. Fifty Four Years (4:57)
10. Etude (1:15)
11. Breaking Up (3:51)
12. Give Your Hand (4:18)
13. The Amazing Moon (4:22)
14. Over The Water To Charlie (6:30)


Glass Half Full
(Jan 1998)

1. Happy Man (3:58)
2. Everything You Mean To Me (3:24)
3. No Choice Of Sin (3:30)
4. Gravity And Grace (4:14)
5. Albert Einstein Dreams (4:39)
6. New Ivory Tower (4:04)
7. Crazy Life (4:18)
8. She Believes In Me (3:58)
9. Well Done (3:15)
10. Strange Angels (5:12)
11. Art Of Life (3:44)
12. Rain (4:27)


Too Late To Make
A Long Story Short
(Jan 2001)

1. Finally Me (3:39)
2. Chasing Juliet (3:19)
3. The Answer Is No (4:04)
4. James And His Telescope (4:23)
5. Nowhere Else But Here (4:03)
6. Jesus Mary Mona Lisa (5:39)
7. Light Of The World (3:48)
8. This House Is Haunted (3:23)
9. Fool In Casablanca (4:23)
10. Flimsy Little Theory (3:34)


Listen. Naked.
(Mar 2007)

1. Another Love Song (3:32)
2. Go Back In Time (3:12)
3. Love Is Ageless (3:29)
4. I'll Be Fine (3:01)
5. The Boston Straggler (4:34)
6. Mrs. McCoy (3:44)
7. Big Bang (3:06)
8. Keep Moving Forward (3:31)
9. The Way I Feel (3:25)
10. Something You're Not (3:06)
11. We Belong Together (3:10)
12. So Simple (2:57)
13. When The Walls Came Down (4:06)
14. Richard Seed (3:03)




Naked Favorites
(Jan 2020)

1. When The Walls Came Down (4:34)
2. As When We Dream (4:41)
3. Tenderly (2:29)
4. Slip Away (3:01)
5. Love Is Everywhere (3:22)
6. Pilgrim's Kiss (3:17)
7. Blame It All On You (4:25)
8. Garden Of Rodin (5:24)
9. The Amazing Moon (4:22)
10. Happy Man (3:59)
11. Everything You Mean To Me (3:25)
12. Crazy Life (4:19)
13. Art Of Life (3:44)
14. Finally Me (3:40)
15. Chasing Juliet (3:19)
16. This House Is Haunted (3:24)
17. Another Love Song (3:33)
18. Go Back In Time (3:12)
19. I'll Be Fine (3:02)
20. The Way I Feel (3:26)
21. We Belong Together (3:10)