What's the best way for a music lover to hear live music once a month? The answer is a concert at home.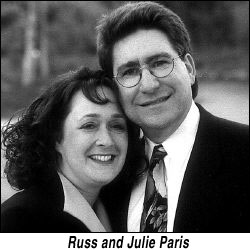 Oak Park residents Russ and Julie Paris decided to do just that in February 1997, and they've been having monthly concerts in their home ever since.
In 1996, a friend of Russ and Julie invited them to a CD release party and concert that was to take place on a patio in a residential backyard. At first sight, the Paris couple got an idea. They asked the musical artist if he'd be willing to do a concert in their home. The artist said yes, and so began what are known today as Russ and Julie's House Concerts.
Since then, the couple's hosted shows with artists such as Laurence Juber, the lead guitarist for Paul McCartney's band Wings; Jim Messina from the '60s band Buffalo Springfield and the '70s band Loggins and Messina; and Karla Bonoff, who's written songs for and recorded with Neil Young, Linda Ronstadt and others.
The only stipulation that Russ and Julie make for each artist who performs is that they sign a scrapbook that documents the musicians who've played at their home over the years.
House concerts are a growing phenomenon around the country, especially in Texas and New England, according to sources.
"Most of the house concerts focus more on pop and folk rock," Russ said. "But the good thing about living near L.A. is that people here enjoy a wider variety of music."
Russ and Julie's House Concerts attract from 50 to 60 guests at each show. Their largest crowd was for the Jim Messina concert, which brought in more than 100 people and filled the house.
The couple hauls all their living room furniture out to the garage on the day of a concert and sets up rows of chairs. Now that their three sons are 16, 14 and 11 years old, Julie and Russ have plenty of manpower to help set up.
"The boys are totally involved in the process," Julie said. "They grew up with this going on around them." The couple's son Michael was inspired to take up the tuba after hearing an artist play the instrument at one of the concerts.
Russ and Julie are not only music lovers but also good neighbors. They allow their neighbors to come over early in the day to save seats. The day after each concert, the couple walks the neighborhood, making sure there's no trash left behind on the streets.
Guests visit the Paris home from all over the country. When Karla Bonoff performed, the couple referred many people to local hotels and restaurants.
"This is truly great for the entire community," Julie said.
CDs of the artists' work are available at the concerts.
"We're not doing this to get big names but rather to showcase quality music," Russ said. Most of the music is for adults over 30.
The couple asks for a voluntary donation of $15 at each concert. Guests are also encouraged to bring a contribution to the dessert buffet.
On May 8, Russ and Julie's House Concerts will present Gravity, a trio of talented individuals that includes Clydene Jackson Edwards on keyboards and vocals, Harold Payne on guitar and vocals and Oliver C. Brown on percussion.
Gravity has completed several successful tours to Japan and Hawaii for the recent release of their song "Love Comes Back." The group is becoming an international force with a powerful message, according to critics. The message is a perfect complement to Mother's Day, which falls on the day after the Oak Park concert.
For more information, please visit Russ and Julie's House Concerts at
www.houseconcerts.us
or email houseconcerts@jrp-graphics.com.