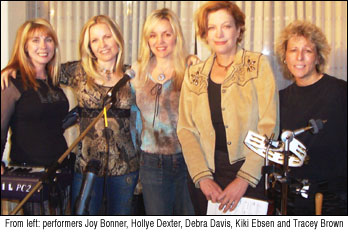 It's a popular phenomenon that's spreading across the country: "house conerts." They feature well-known performers hosted in private homes for audiences of between 50 to 80 listeners.
About five years ago the New York Times reported that there were approximately 500 brave souls who opened their homes to music lovers, said concert hosts Russ and Julie of Oak Park. They say there is at least another 150 nationwide who partake and go online to trade stories, ideas, and get informationa bout performers.
"Russ & Julie's House Concerts" have been a monthly Saturday night event for the last seven years. The concerts usually begin at 8 p.m. and are over by 10:30 p.m. out of courtesy to their neighbors who are frequent guests.
"By asking people to R.S.V.P.," said Russ, "we're technically a private party. We ask for a $15 donatoin at the door, 100 percent of which goes to the musician," Russ said. "We're not a business. If you're at a coffee shop you're going for social hour; if you come to the house you're coming for the music." After each concert there is a potluck dessert buffet.
Russ and Julie are frequently asked why they would move their living room and dining room furniture into the garage once a month and haul out the 65 folding chairs purchased at their own expense. Russ said, "It's a lot of work, but it's gotten easier over time."
For the incredulous, Russ said, "Radio is geared to a teenage audience, and so if you want more sophisticated music, you need to look for it."
While he and Julie aren't musicians, Russ said they are "music buffs" and felt they could "participate in a different way." And yeah, the house concerts have "been an expense every month, but it's a hobby and a lot less expensive than horses or boats, and it's a great way to meet people and share music with the community," said Russ.
People connect, and the common denominator is music," whether it's folk rock, jazz, blues, blue grass or rhythm and blues, he said.
Through the years, Russ and Julie hosted a number of famous entertainers like Jimmy Messina.
It isn't amateur night," Russ said. "We're now approached by musicians from all around the world to play here, which is interesting since we're not a normal venue," Russ said, "But musicians want to do house concerts because of the intimacy of doing a show in that type of environment."
Established house concerts across the country, such as Russ and Julie's, are booked solid and backlogged with musicians who want to play there. According to Russ, they're solicited daily, receiving CDs and press kits from all over the world.
"We sit down and listen and select top quality musicians," Russ said.
On April 3 the crowd gathered to hear five of six exceptionally talented musicians and friends perform on behalf of Music Heals. By evening's end, $1,000 was donated to the music therapy program: a nonprofit organization the performers themselves established four years ago for at-risk fother you.
For more information about Russ & Julie's House Concerts visit
www.houseconcerts.us
.